6 simple tips for sustainable shopping in your daily life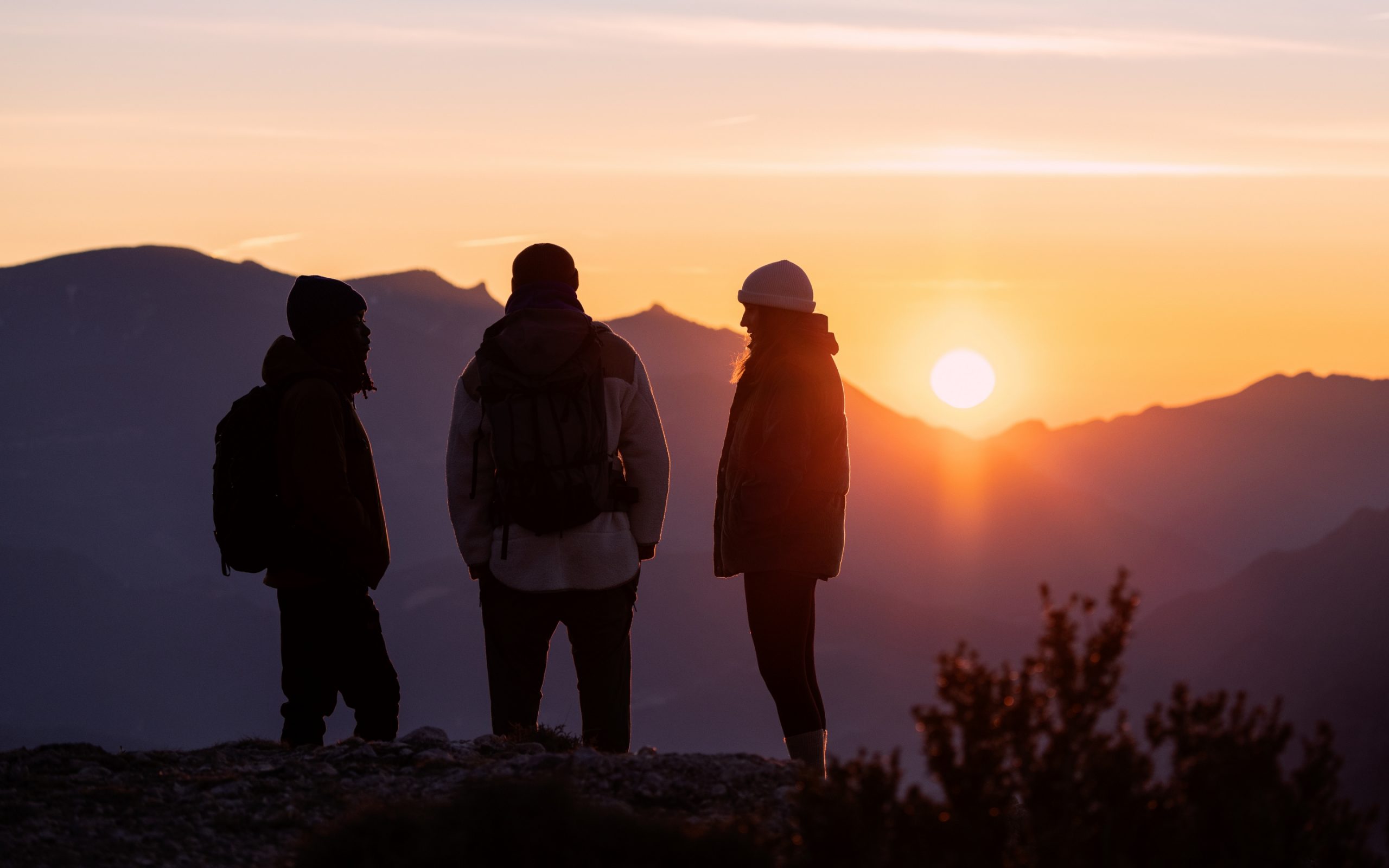 Have you ever asked yourself what you can do to help protect the environment?
We bet you have.
And, have you also asked yourself: Can I really make a difference? Do my actions count?
Let's cut to the chase: yes, you do – yes, they do.
Whether you're a seasoned green shopper or a complete newbie, sustainability is a topic that should be on your radar, because let's face it, climate change is no joke.
At BUFF® we have decided to support this growing trend of environmentally-conscious shopping, so we will explain the many ways you can shop sustainably. We hope that this will help many BUFF® lovers to switch to more eco-friendly shopping habits.
How does sustainable shopping help the environment?
When you shop sustainably, you make an effort to choose products or services that have minimal impact throughout their lifecycle – from production to disposal.
With this in mind as an eco-friendly shopper, on a practical level, you:
Limit your carbon footprint:  you choose to buy local goods or opt for items with shorter supply chains. This can dramatically decrease the amount of emissions caused by transportation.
Consume fewer resources over time by buying high-quality products that last. Plus, sustainable brands will use mostly eco-friendly materials (just like us!), so less energy is consumed during production.
Minimize waste by reducing the amount of garbage sent to landfills, that's thanks to buying items with minimal packaging and opting for products that can be recycled or upcycled.
Support an important shift: the fashion industry needs to change, and by sustainable shopping, you incentivize more companies to adopt environmentally/friendly practices. This has a long-term effect that will have a benefit for the planet.
A little premise for our 6 key tips for sustainable shopping
As you can see, being mindful of your purchasing habits is an essential part if we want to set the bar for a better planet in the future.
Now, before we dive into some detailed actions for sustainable shopping, it's essential to remark that we need to take the time to do some homework.
In fact, before making any decisions, make sure to learn more about the products you buy:
Are they sustainably produced?
How does the company use their resources?
Well, for instance, at BUFF® we like to get a head start on things we care about and we seriously care about our planet, that's why we are always updating our corporate social responsability reports.
Anyway, let's review tips for sustainable shopping.
Our 6 tips for sustainable shopping
Here are our 6 tips for sustainable shopping.
Buy from sustainable brands
A sustainable brand is a brand that uses its influence to help create a better world.
It is about using every aspect of your marketing strategy to spread your message.
What is BUFF® doing?
We are very proud to show our commitment not only to sustainability, but also to our usage of eco-friendly materials, responsible use of resources and fair treatment of all our employees. Plus, our facilities are 100% powered with clean resources.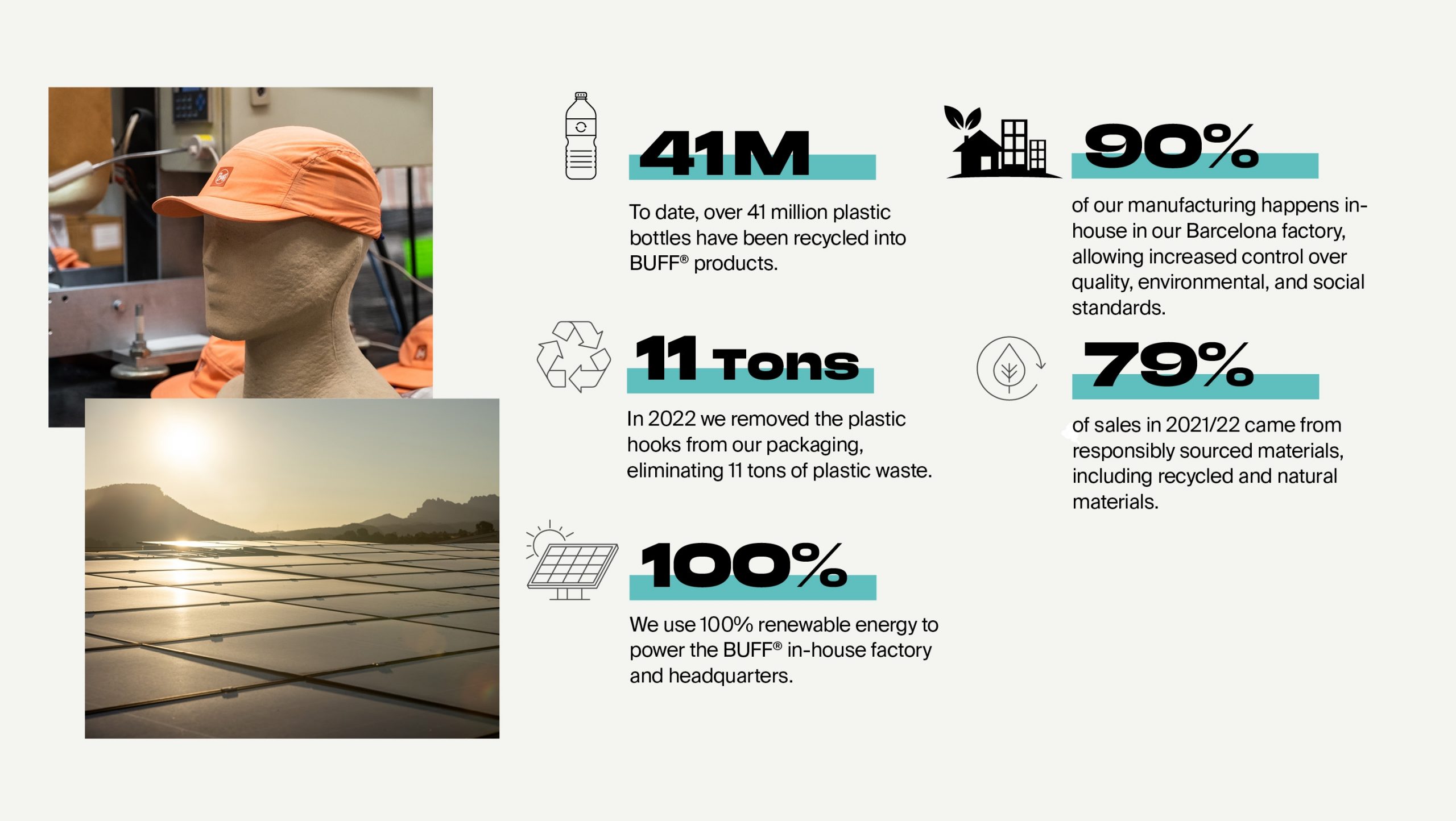 Always go for high-quality products
Invest in well-made, durable products that last longer, reducing the need for over consumption.
Make sure that you're really getting the very best quality you can, because the last thing you want is spending money for something that doesn't properly fit your needs in the end.
You also have to think about the value that you're getting in relation to the cost that you pay.
Don't just buy whatever because it might be cheap. This isn't the best decision either.
If money is the only criteria you check while buying, it encourages fast fashion which does not sustain a healthy model for the planet.
Why BUFF®?
We craft neck gaiters and caps, always selecting the highest quality materials. For our neckwear options, we use seamless technology, which make our products more durable with a zero-waste approach through avoiding cutting and sewing. Plus, we have certified UPF50 sun protection on our clothing accessories to protect you from harmful UV rays. 
Shop locally
Rather than purchase accessories made in far/away countries by workers earning low wages, consider buying from local producers instead. When you purchase products from local businesses, you support local communities, helping families that provide a valuable service to the local economy.
Why BUFF®?
We strive for sustainability by producing 90% of our products here in Barcelona. We control quality while reducing our environmental impact at the same time, which makes us truly proud. Our ability to handle all aspects of production in-house, from quality control to manufacturing processes to worker conditions, gives us the power to use the most eco-friendly processes. Curious to know how we make our products? Check our video!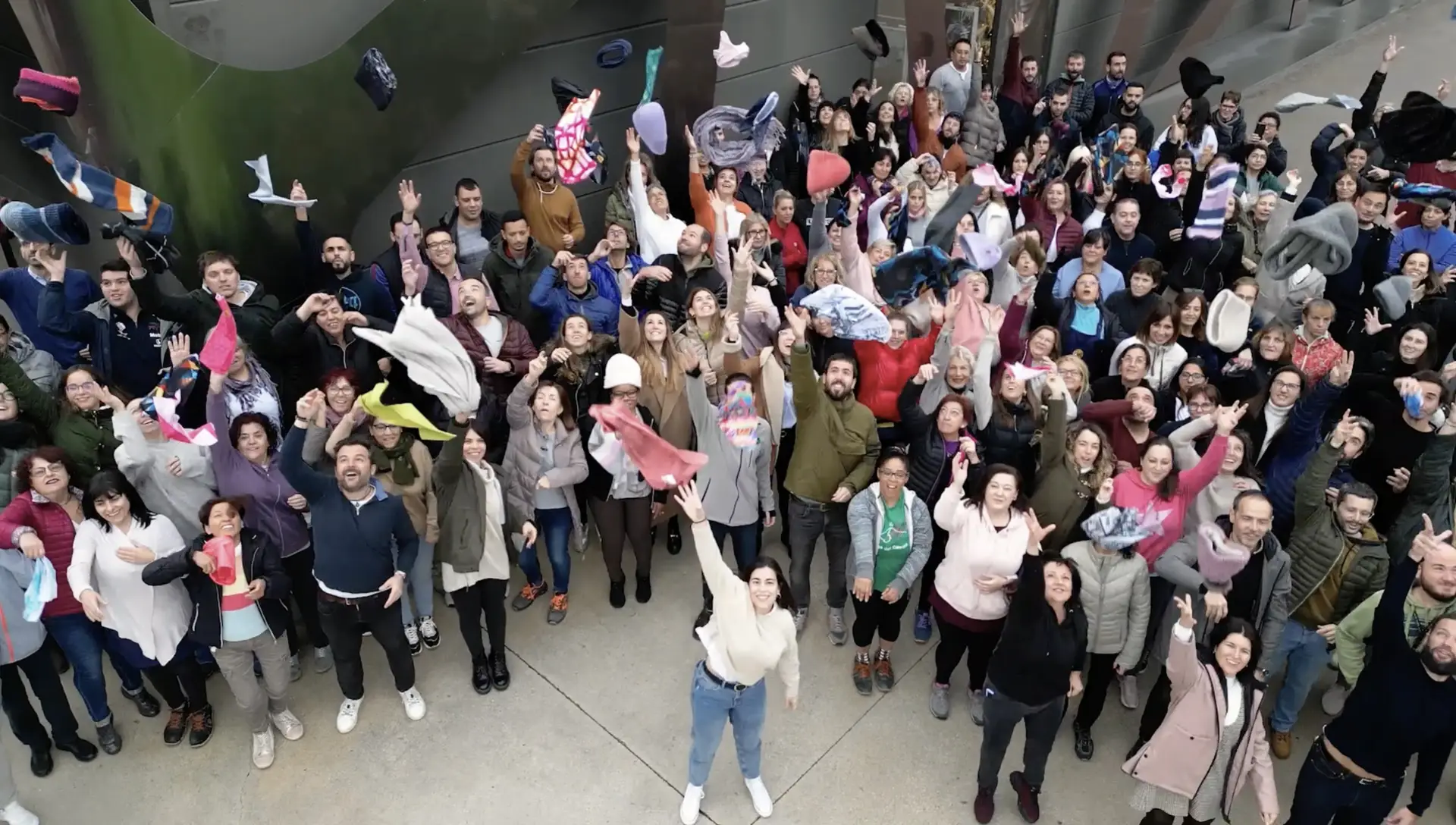 Buy recyclable 
Going back to the sustainably produced, choose products made from materials that are recyclable or biodegradable.  Companies can make a big difference at this stage, because when the manufacturing process begins, it is important to determine which raw materials are used and whether there are any alternativ versions which have a lesser impact on the environment.
For instance, opting for recycled materials over non-recyclable ones should be prioritized.
Why BUFF®?
Our garments are made of 95% recycled content. We recycled plastic bottles to craft high-quality, durable neck gaiters and caps. Todate, we have used more than 41-million plastic bottles! Check out our wide variety of eco-friendly clothing accessories.
Search for natural-fabric garments
For those of us who are conscious about our environmental footprint, the choice to purchase natural fabrics garments is a must. Not only are these materials better for the environment, but they also offer many advantages in terms of comfort and longevity.
Natural fibers like wool, cotton, and linen are all great options when it comes to seeking out garments that are both comfortable and stylish.
Why BUFF®? 
We love animals. That's why the yarn used in BUFF® products is ethically sourced from Australian sheep farms. We treat this gift from Mother Nature very well, to turn it into a real gift for all those that want softness, breathability in just one, seamless garment. 
It can do this by donating part of its profits to help protect the environment, or by helping to support social causes. Creating a sustainable brand takes time and effort.
Some of our Merino cruelty-free accessories
Value brand certifications
Brand certifications are not just medals. They mean accountability and transparency towards their consumers. Moreover, it shows they have  the highest social and ethical standards, and that they are brave enough to commit to sustainability..
Why BUFF®?  
We are proud to be B Corp certified, so we meet high social and environmental performance standards. As part of this commitment, we are dedicated to continuously improving ourselves so that our mission is being fulfilled in the best possible way.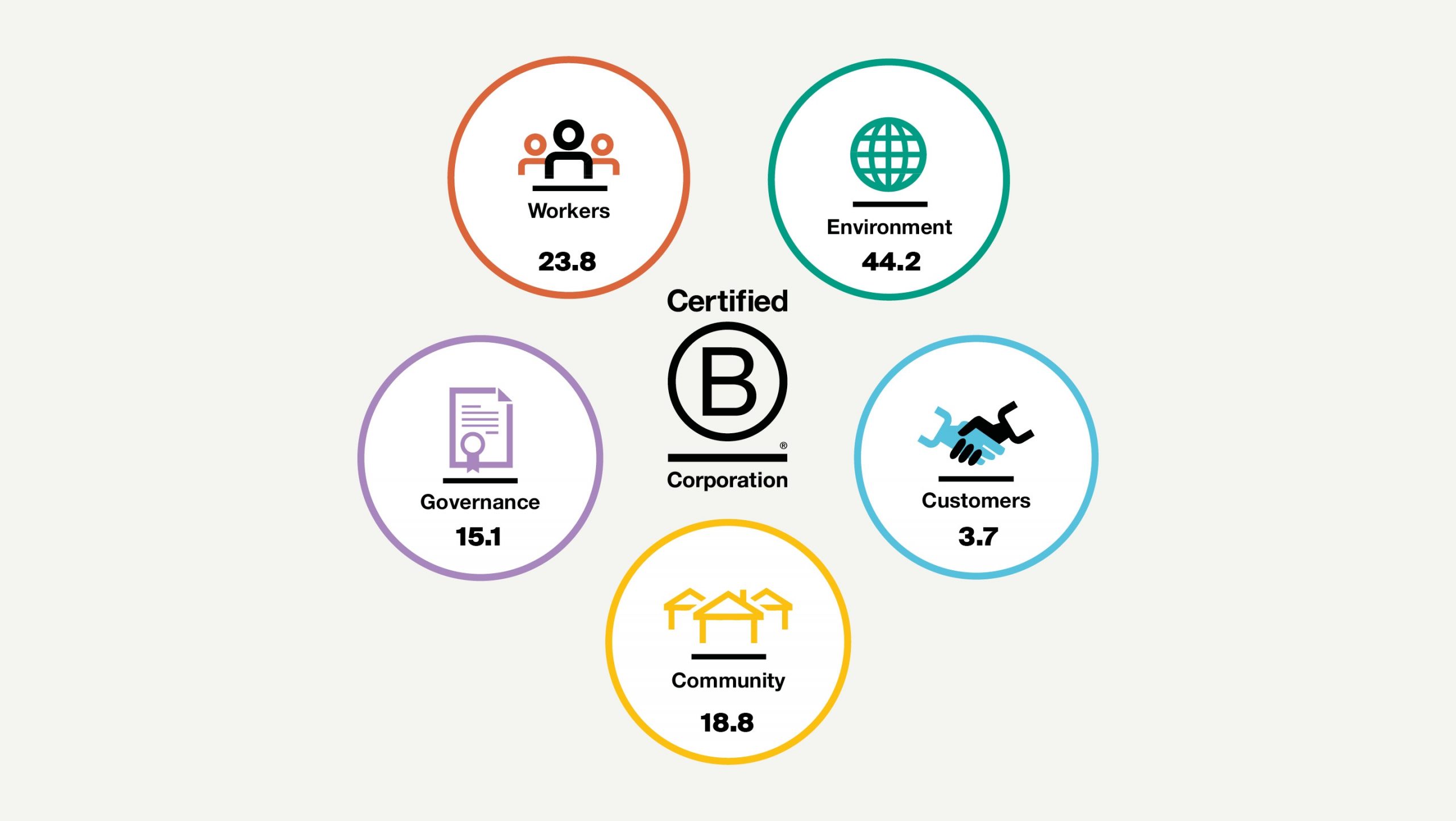 BUFF®, the best bet for a more sustainable future
At BUFF® we change the world every day because:
Our garments are high- quality and last a lifetime.
We use 95% of recycled materials
We produce with organic, natural fabrics and cruelty-free techniques
We use clean energies for our facilities and produce products in-house.
We consciously choose practices that improve the life of the planet and yours too, by giving you only five-star neck gaiters and caps.