The best skimo routes in Europe
Every year, ski mountaineering, also known as skimo touring, becomes more popular. For some, this sport is simply an extension of their training to keep in shape in winter, while for others it has become a way to combine skiing and mountaineering, enjoying a slow and deliberate climb on the way up and an adrenaline-filled descent.
Taking into account that the majority of skimo routes reach a height of more than 2,000 meters, the wind may not be your best ally on the mountain. That's why it is essential to have technical equipment adapted to the weather conditions and to cover your head and neck with hats and neckwear designed to offer protection against temperatures down to -20ºC and wind of more than 80 km/h. We offer accessories made from DRYFLX®+ , a revolutionary fabric that regulates the temperature of specific areas of your head and neck, equalizing them with your body temperature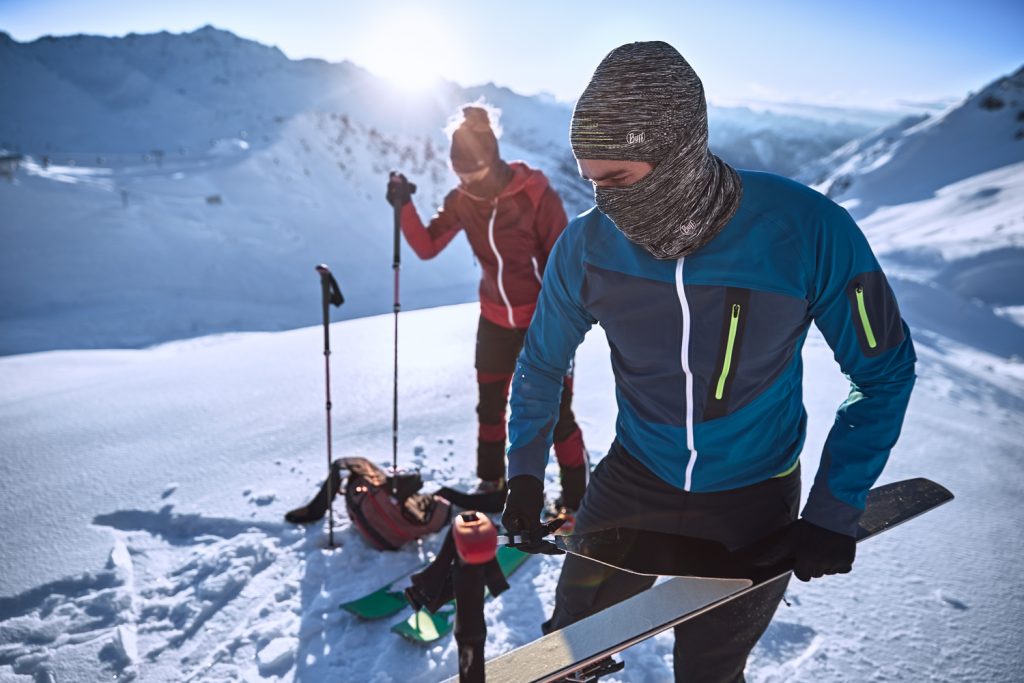 Hats, headbands and neckwear made from this fabric are able to identify areas of excess perspiration (such as the forehead and back of the neck), absorbing humidity and protecting the ears from the cold. They offer optimal comfort and are designed to ensure the accessory stays in place.
Chamonix (France) to Zermatt (Switzerland)
 The worldwide alpine route par excellence, only suitable for the fittest of skiers. It is a 120-kilometer route – which can take up to six to seven days – with stops at huts nestled between some of Europe's most spectacular summits, including Mont Blanc, the Matterhorn and Pigne d'Arolla.
Breuil-Cervinia (Italy) to Gressoney-La-Trinité (Italy)
 Another of Europe's greatest routes, on the other side of the Swiss-French Alps. Italy is the location for the most important alpine ski racing competitions, and also boasts a range of skimo routes starting at an altitude of 2,000 meters with panoramic views of Monte Rosa (4,634 m), the peak of Castor or the Marinelli Couloir descent. The magnificent Aosta Valley is without a doubt one of the best places to ski.
  Buff® Skimo Aneto 
Whether you are just starting out in the ski mountaineering world, or you wish to take on ascent routes to the most impressive summits in the Aragonese Pyrenees, take a look at the routes on the following link (http://www.buffentrerefugios.com/skimo2 ). The website provides information for planning a variety of circuits of different difficulties, suitable for people with different fitness levels, including climbs to a range of huts in the area and even Aneto itself at 3,404 m.
Whatever route you choose, it is essential to plan your trip with the utmost precision to avoid possible incidences on the mountain. Good preparation combined with efficient gear will allow you to enjoy this type of skiing even on the coldest of days. All our Dryflx®+ designs can be found at our online store and in sports shops. Don't let the cold weather keep you from the mountain!
See all our Dryflx®+ designs