SPRING SKIING COLLECTION – INSPIRED BY MOMENTUM CAMPS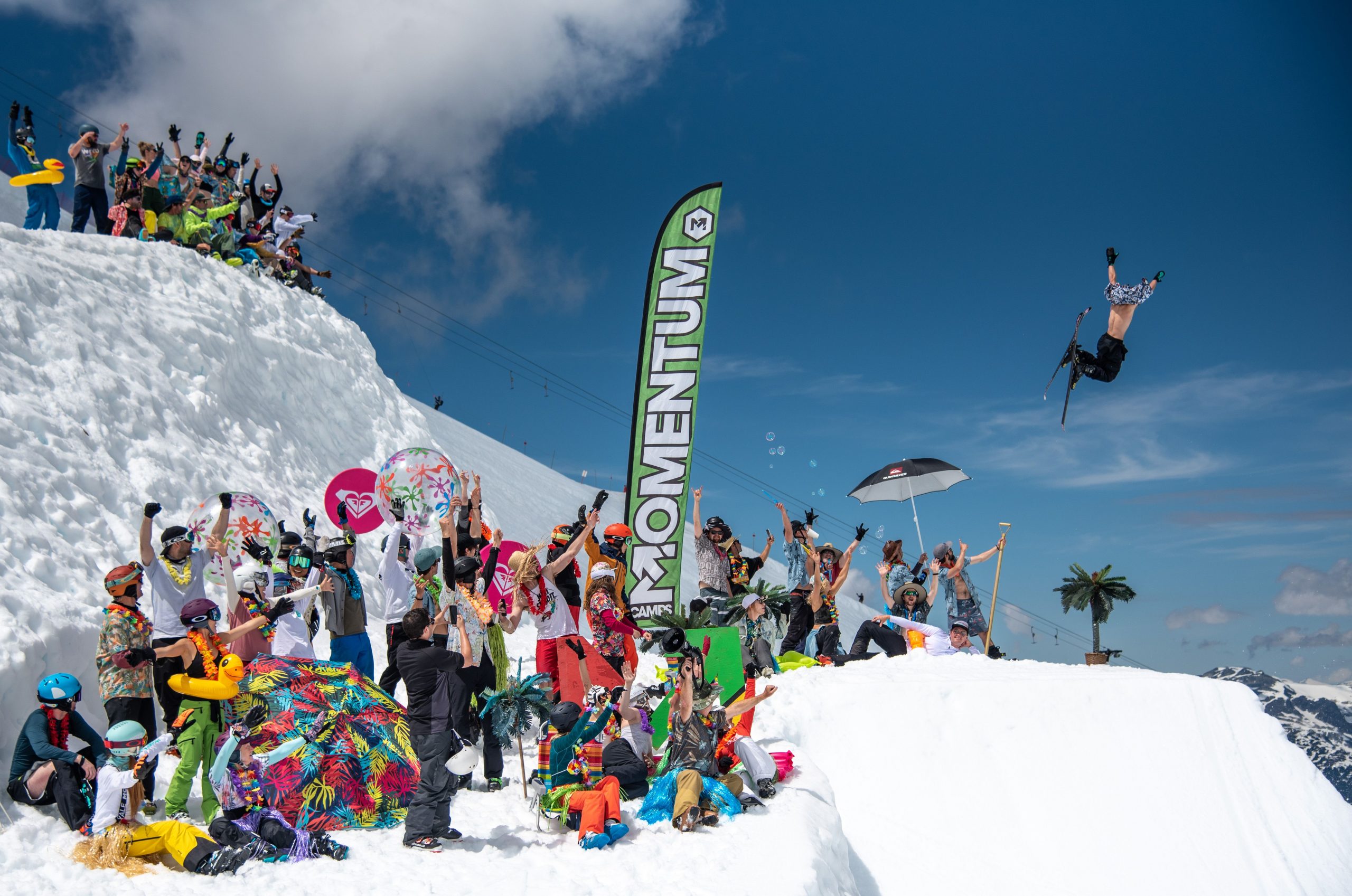 BUFF® X Momentum Camps
Since 1992, Momentum Camps has perfected what it means to have fun and progress quickly on snow in the summertime. Set on The Blackcomb Glacier, Momentum Camps offers the ultimate ski and snowboard summer playground in one of the most beautiful places in the world and includes programs in bumps, park, big mountain skiing, and snowboarding.
Since 2018, BUFF® Canada has been a proud supporter of Momentum Camps. Momentum Camps and BUFF® Canada share the same passion for the outdoors and strongly believe in engaging in adventures that makes us feel truly alive.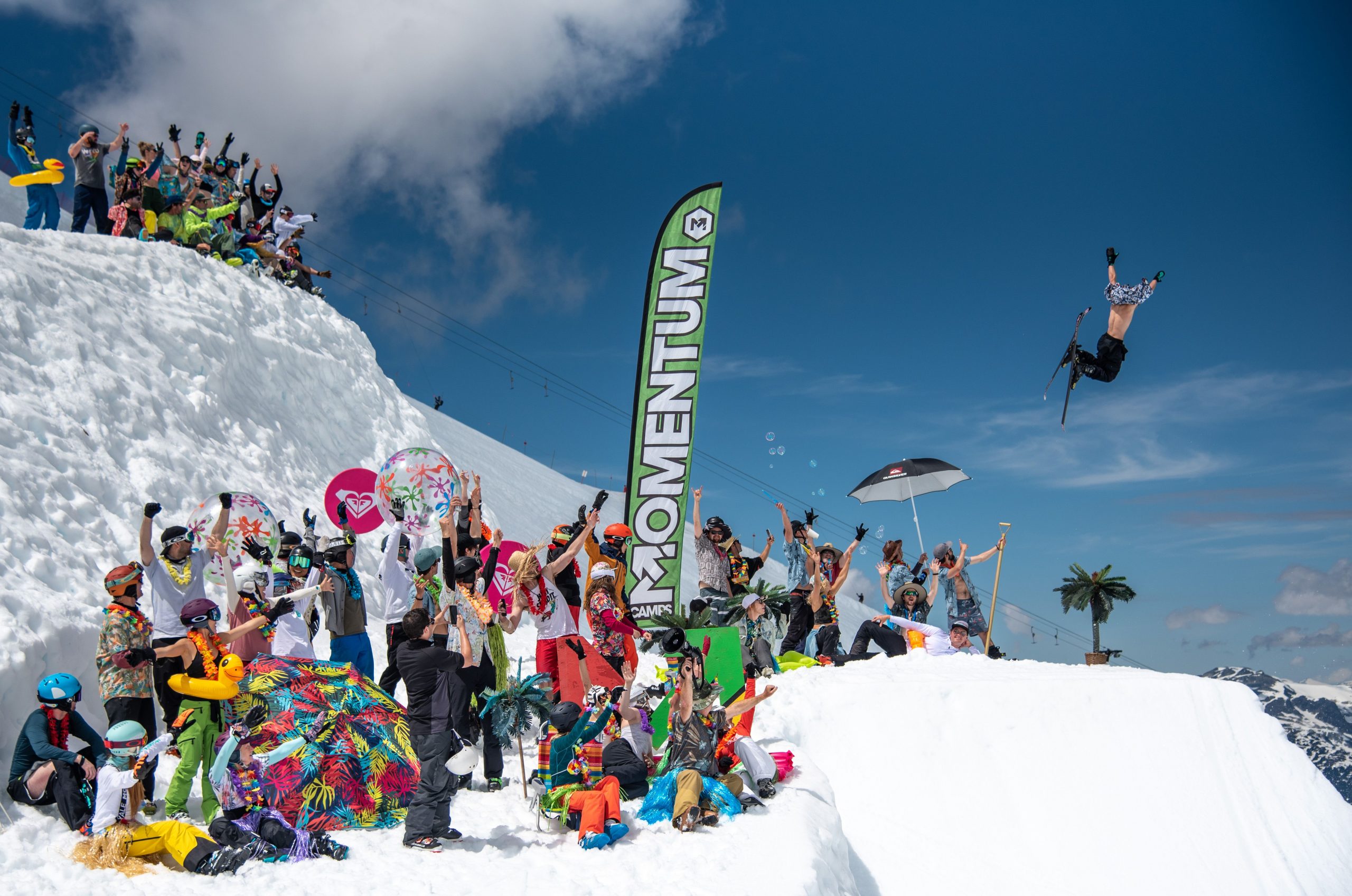 This year, we collaborated with Momentum Camps to create 4 unique BUFF® neckwear designs. This collection is designed by the talented graphic designer, Charles Originality from Bromont, Québec, Charles decided to move to Whistler BC in his camper van. Shortly after moving to Whistler, Charles met John Smart, founder and director of Momentum Camps. John sponsored Charles as a freestyle skiier, and their relationship further evolved over the years. John was quick to notice Charles' artistic talents, and eventually became the main designer at Momentum. To this day, Charles still works closely with John.
Retro vibes are the theme of this collection. Spring Skiing is the time of year where the sun is shining, the weather is warm, and the slopes are slushy. Winter parkas are traded in for lighter, colourful, jackets. Apres-ski moves from inside the lodges to outside on the patios. The energy on the slopes is unparalleled.
Go-Flamin-Go, Camouflage, Retropical, and Trippical, are designs that represent the good times of spring skiing.
Go-Flamin-Go is inspired by the iconic and colourful flamingo.
Crush everything from park to powder, to sneaky secret runs with your Camouflage design.
The Retropical design is all about the retro fun times – skinny skis, neon onesies, gaiters, and 80's sunglasses.
Lastly, Trippical embodies the tropical vibes that come along with spring skiing; warm weather, slushy snow, and lots of sunshine.
This year we are stoked that our sponsor BUFF® is taking the lead in offering this award and experience to some lucky camper. "
Every purchase of a BUFF® x Momentum Camp neckwear raises funds for one kid to attend Momentum Camp this summer, 2022. The profits of this collection give one kid the opportunity to learn from the best athletes in the world, including Olympians, Word Cup Champions, and top pros.
We have always enjoyed offering up a free camp and seeing the creative drive and hunger come through from the kids who want it most. This year we are stoked that our sponsor BUFF® is taking the lead in offering this award and experience to some lucky camper."
To win a camp, submit a video, that is 25 to 60 seconds in length, of why you should win a free camp. You will need to submit the video, alongside other additional questions. through the form below. The contest opens March 1st and closes March 31st. The winner will be announced on April 14th!