Why early mornings promise the best adventures!
The first light just hit the top of the mountains around us. We are somewhere in the north of the beautiful island of Mallorca and there's almost no wind today – a perfect day to get our SUP boards out for a little adventure!
We park our van at the end of an unnamed road and start pumping air into our boards. It's our first road trip since we bought the Sprinter and converted it into a camper all by ourselves. It is a 4×4 vehicle allowing us to drive to places where not many people can get to, remote places where adventure awaits. And it is not a coincidence that we decided to drive all the way to Barcelona and take the ferry to the biggest of the Balearic Islands: Sebastian was born on Mallorca, not far from where we are now. Although it is not our first time together on the island, it is our first trip that's lasting that long. And it is our first trip after being locked down for more than a year.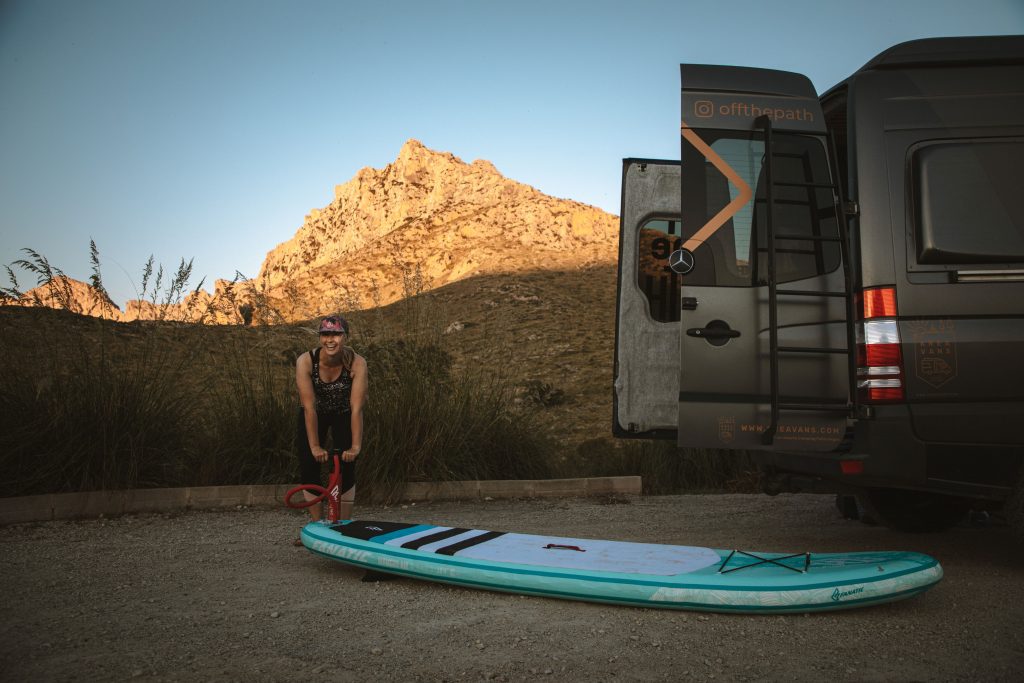 We were craving the ocean, the smell and the sound of it, and it's incomparable vastness. We were craving sunshine, the warmth of the sun, and the sheer happiness it brings. And we were craving adventure, the excitement of something new, something unknown, an unforgettable experience. And with every pump not only our boards grow bigger, but also the feeling that this is going to be such an unforgettable experience, a story we will tell our family and friends at the many campfires yet to come. And the feeling that this is not only going to be a calm, but also a sunny day.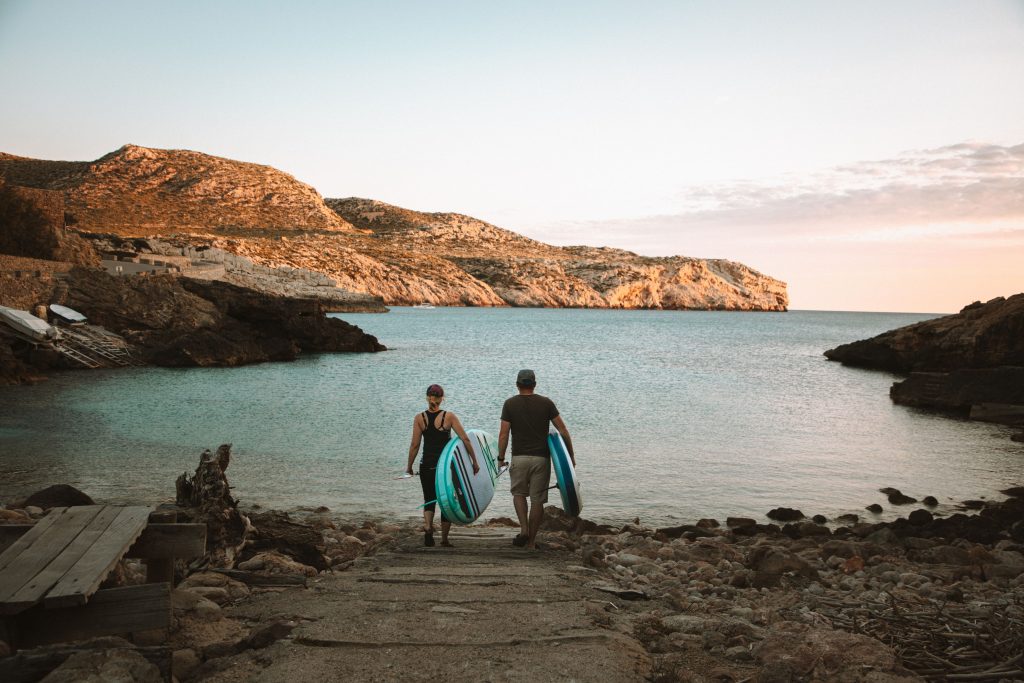 We are done pumping and just need to adjust our fins. The plan is to only take our boards and paddles, and our caps. I'm already wearing mine, while Sebastian packed his cap in his pockets. We are following parts of the road that has taken us here, until the path is leading us down to a small secluded bay. We already saw that bay passing through the area a few days ago and kept dreaming about coming back with our SUP boards ever since. The water is simply amazing here, it has this mesmerising colour shining in all shades of blue, from turquoise to navy.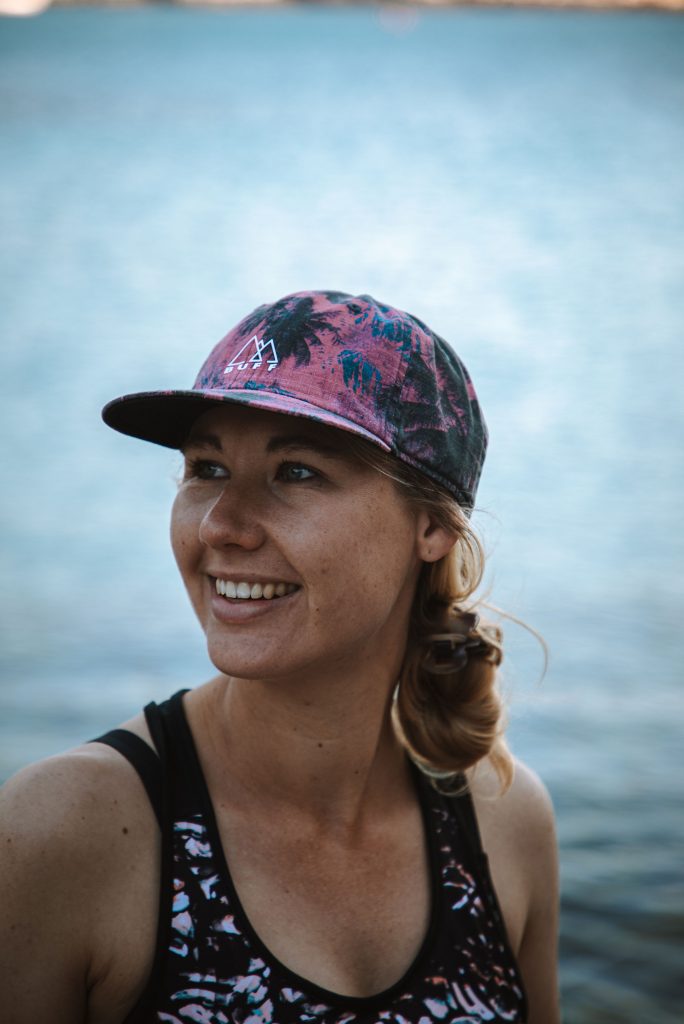 It's summer time and the island is presenting itself in a lush green. Everything feels alive, just like us. And a few days ago we even spotted a school of dolphins not far from here – will we see them again? There's this tingling sensation in my belly, and a big grin on my face. The smell of the ocean is hitting in and we can hear the small waves quietly smashing the rocks. In the distance we spot a sailing boat that must have spent the night here as well as some fishermen in their kayaks. Otherwise there's nobody around except for us. It's exactly because of this, why we always set our alarm clock early and get up before everybody else. No matter if we are hiking in the mountains, canoeing on the lakes or paddling with our SUP boards, we always make sure to wake up early in the morning, catch the sunrise and be all by ourselves. This way we can enjoy nature to the fullest – just like today.
We hear nothing but some seagulls screaming. Sebastian is unpacking his cap and now the adventure begins: We are letting our boards into the water and start paddling. The current is quite strong and we are drifting quickly. Other than that it is beautifully quiet. More and more spots are lit by the morning sun and the water colour is changing with every beam of sunlight. We are slowly paddling along shore into the open ocean. We discover starfish clinching themselves to the rocks and every now and then some fish appear underneath our boards.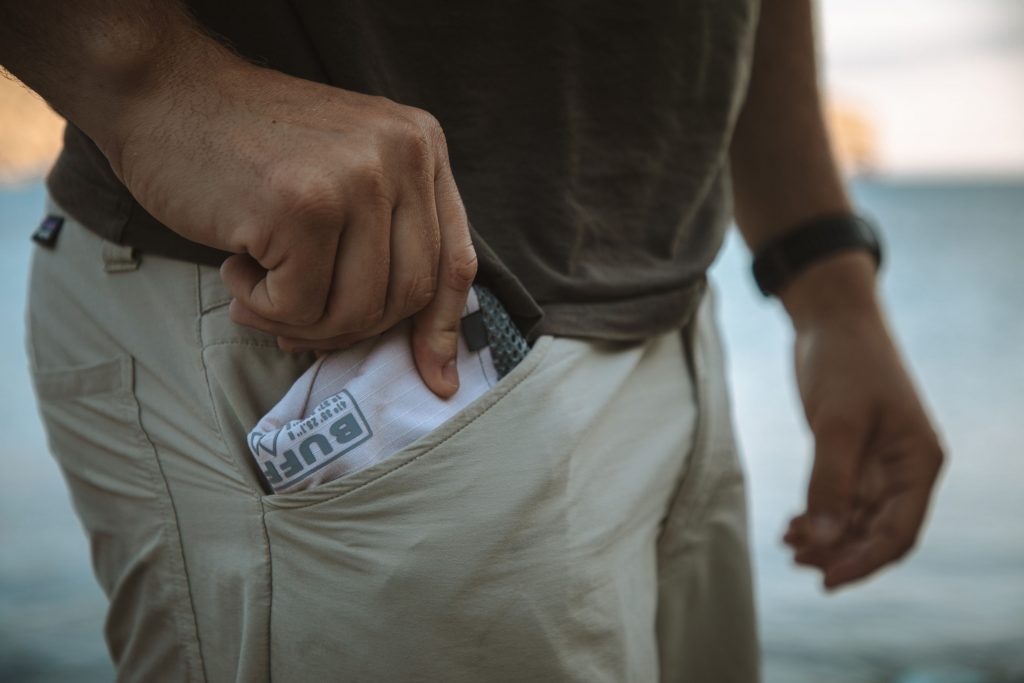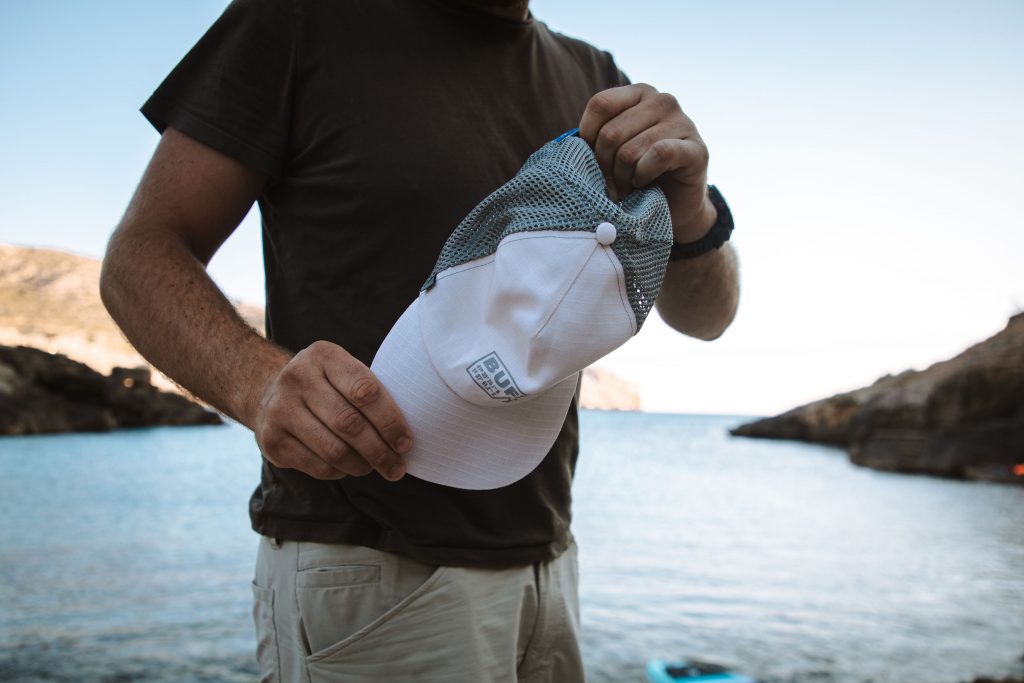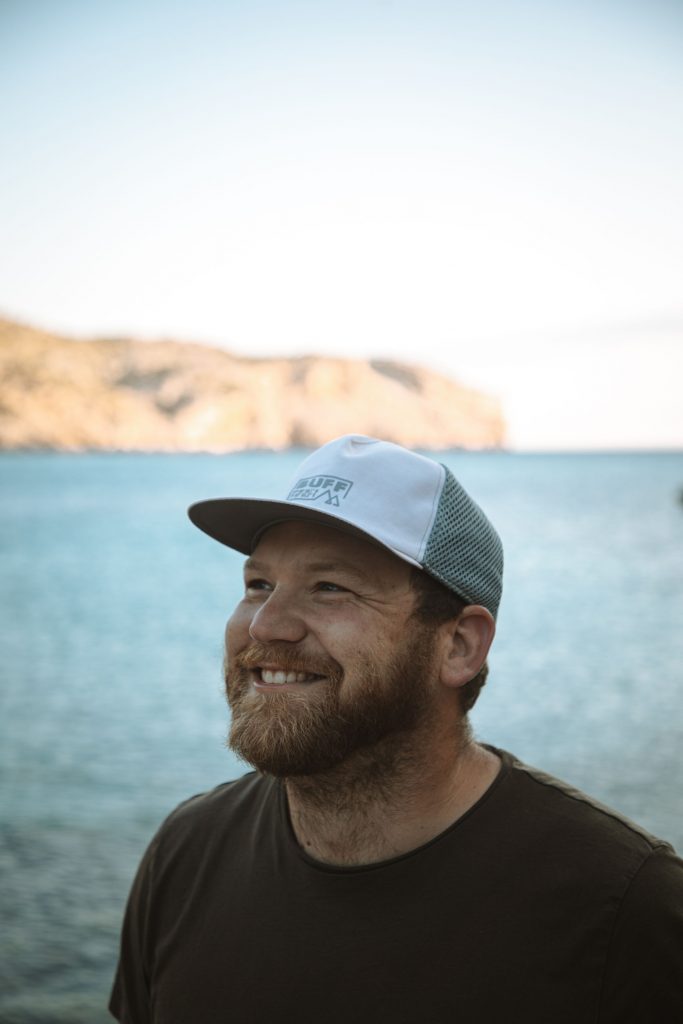 With every strike we are leaving our mind behind and letting our heart immerse itself. After all, we are adventurers at heart, outdoor enthusiasts and love spending time in nature. The sun is getting stronger, but next to our caps there's a minor breeze cooling us down. The deep blue colour of the ocean has a calming effect just like the continuous sound of our paddles plunging into the water.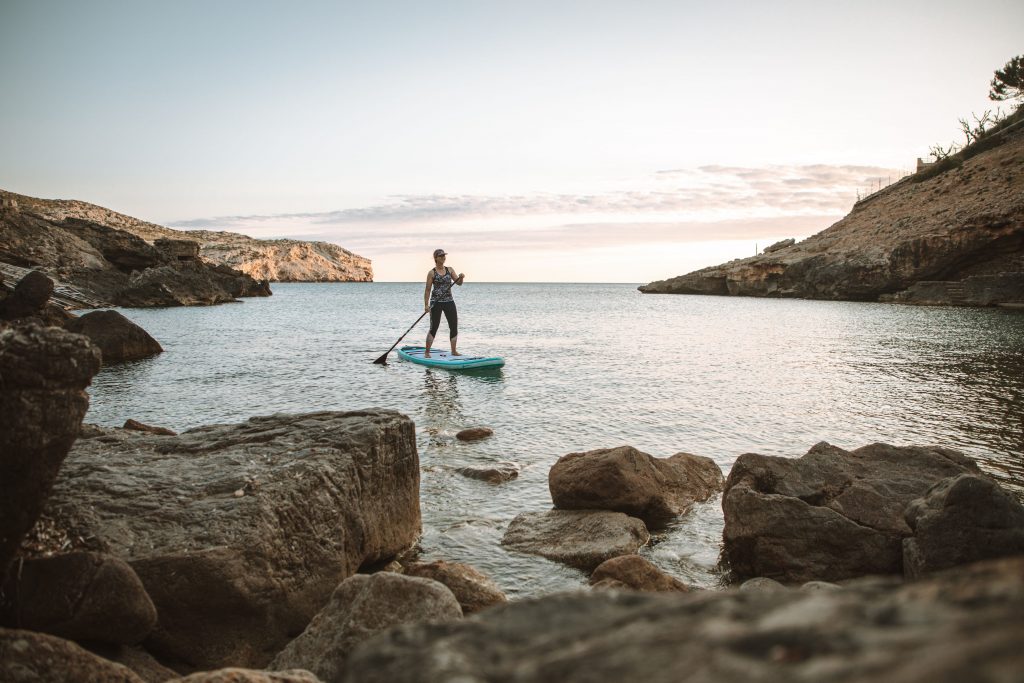 We keep following the sea shore and look out for dolphins. Some people told us that occasionally whales and even Orcas, one of our favourite animals, have visited the waters of Mallorca in the past. We decide to take a break and sit on our boards, just keeping our eyes and ears open.
With the sun having fully risen it's starting to get hot. We could take a dip in the ocean to cool off? Maybe later, but now it's time to paddle further. We have no fixed plan and simply could go on like this for hours. Being outdoors makes you forget time and in the end it's these types of adventures that will add up to a life fully lived, a life that is made up of unique moments and stories!
Sebastian and Line