5 winter running tips
Winter is officially here and we're sure that more than once you've decided not to go for a run to avoid catching a cold. However, contrary to popular belief, training during the coldest months of the year will not only help you stay in shape, but will also reinforce your immune system against adverse weather conditions. Here's some advice to ensure nothing stops you from getting out and benefiting from a run.
Warm up before your run
Before you go out for a run, it's essential to warm up indoors (in the house, on the stairs, etc.) with a series of exercises. It will mean your body will already be warm and you won't notice the difference between the indoor and outdoor temperatures so much.
Wrap up in moderation
There's no point wrapping up if your layers aren't breathable or if they don't protect you against the cold. Don't forget to protect your extremities, and also your head and neck.
We offer head and neck protection made from DRYFLX®+ fabric, which regulates the temperature of specific areas of your head and neck, equalising them with your body temperature.
Hats, headbands and neckwear made with this fabric are able to identify areas of excess perspiration, absorbing humidity and facilitating evaporation, while also protecting your ears from the cold. What's more, as our products are seamless, they provide optimum comfort and can be guaranteed to stay in place.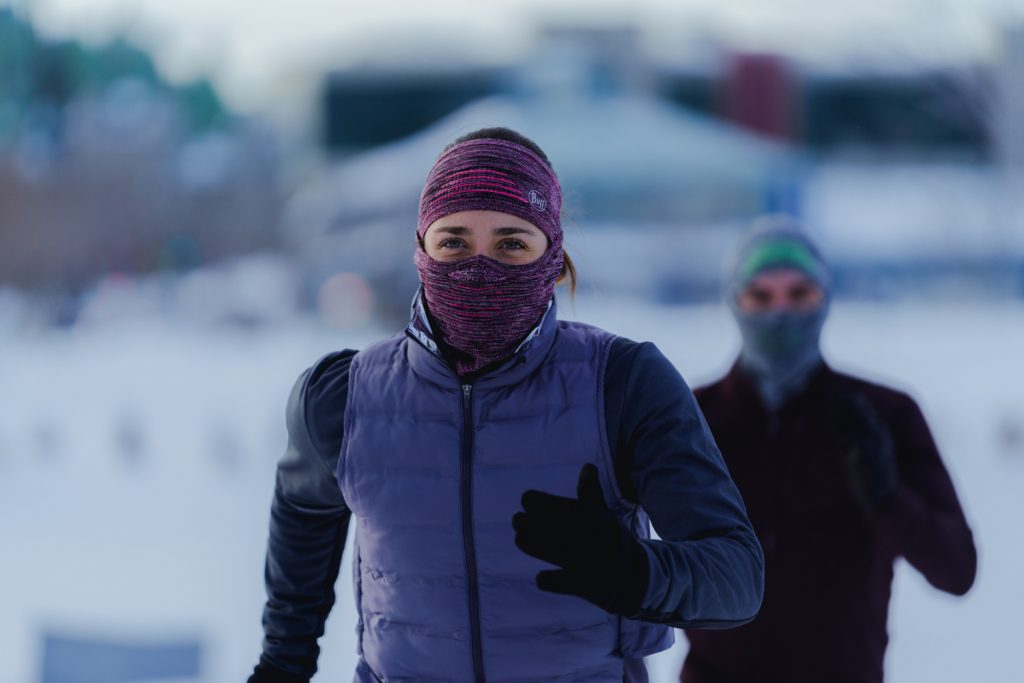 Run against the wind
By starting your run against the wind, you will help your body temperature to rise steadily. On the way back, run with the wind behind you.
Remember to breathe properly
Do you breathe through your mouth or nose? In cold weather conditions, it's important that you protect your airways from the cold. At the same time, accessories covering your nose and mouth must be breathable. Our DryFlx®+ accessories have special perforations in the nose and mouth areas to allow you to breathe easier.
Don't forget to stretch
After your run, always stretch to prevent injuries and to ensure your muscles relax after the physical exercise.
With good preparation and efficient gear, you can enjoy your outdoor run regardless of the temperature. All our Dryflx®+ designs can be found at our online store and in sports shops. Don't let the cold weather stop you running!
See all our Dryflx®+ designs