How to be more sustainable when spending time outdoors
Finding ways to be sustainable in everyday life is now constantly on our mind. Especially amid the current climate crisis. Making small changes from eco-friendly accessories to getting more educated has certainly helped. But what about when it comes to the outdoors. How can we find ways to be more sustainable when spending time outdoors? Here are four points that we believe will help you to be more sustainable in everyday life and the outdoors!
Leave the Places You Love Better Than You Found Them
The outdoors is an important place for us all. It's a place we can go to get away from it, get a breath of fresh air and for some, it's our office. When thinking about ways to be sustainable in everyday life, let's start with the outdoors. Leaving the places better than when we found them is a golden rule to live by.
Backpacks can always fit a rubbish bag in. They are great to have on hand to pack out, not only your own trash but others trash as well. Picking up a little extra rubbish when you're enjoying the outdoors will make the places you love even more beautiful.
Try using eco-friendly accessories such as reusable bags and boxes for snacks. Leave the wrappers at home and forget the difficulty you used to have unwrapping your favourite snacks in the freezing cold, wind, snow and water! Especially when your hands are cold, in gloves and the wrapper is at risk of taking flight.
Trails with no litter, oceans with no crisp packets and forests without banana skins make the adventure much more enjoyable.
Wearing Sustainable products & Eco-Friendly Accessories
Ways to be more sustainable in everyday life include what we wear every day. When buying outdoor clothing, how often do you stop and think about what it's made from, where it's from and the impact that it has on the environment. Probably not often. We should, because clothes and accessories are some of the biggest waste contributors, and that needs to change.
We at BUFF® are taking the lead, we've been using recycled materials in our eco-friendly accessories for years. Like the CoolNet UV+® . Made from recycled plastic bottles, we use waste material that otherwise take hundreds of years to break down. It is the perfect accessory to wear on adventures. All CoolNet UV+® products remove the sweat away from your skin keeping you cool. Some have insect repellent features, stopping the pests bugging you while you're out, and they also protect you from the sun with UPF 50 built in.
Picking up eco-friendly accessories like this, is one of the ways to be sustainable in everyday life and the outdoors.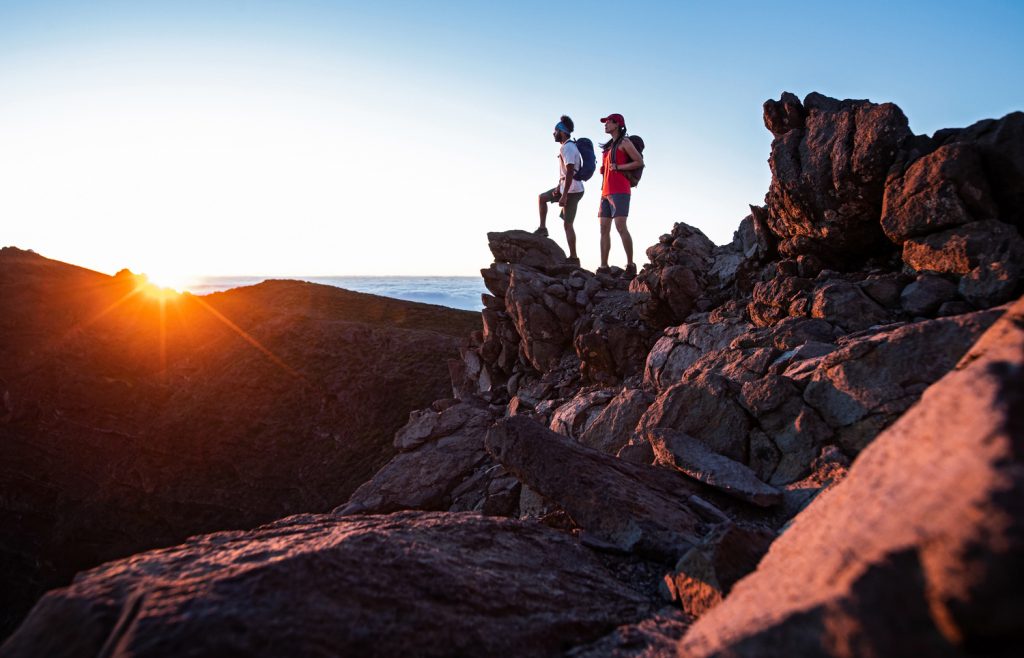 Tread Lightly and Follow the Trails
Getting out to explore the outdoors should always be an adventure. Following a trail can seem like less of an adventure than making your own. So why should you follow a trail in the outdoors? Sticking to the trails protects the habitat, plant life, animals and soil in this area. While also encouraging people of all backgrounds, abilities and ages to explore our beautiful lands.
Environmental agencies and volunteers take a lot of time to make and maintain these trails. Using them not only makes the adventure you're doing a lot more streamline, but it protects the area you're visiting. Being sustainable in the outdoors isn't all about the eco-friendly accessories we carry and the clothes we wear. It's having a greater understanding of our general impact on the areas we love.
When there are no trails but only way marks to follow, tread lightly and follow worn in paths. It also helps you from getting lost! Imagine the destruction of the popular mountains around the world if there was no set route? The beauty of the area wouldn't be the same and the erosion would be devastating.
Travel Smart & Leave Emissions Behind
When thinking about different ways to be sustainable in everyday life, why not think about how you travel? Starting with your local commute and getting around every day. What can you change?
Why not ride your bike to work? Or leave earlier and walk if you're nearby rather than drive. This is a great way to start the day, get some fresh air and exercise before you get to the office! If that's a bit tough, car sharing or using public transport is brilliant. Reducing the number of cars on the road will cut down on the emissions and make our air cleaner. Wouldn't it be nice to start the day without being stuck in a traffic jam?
Let's apply these to the outdoors. Why not cycle to the trail head or beach? Car sharing with friends is great, who doesn't love a road trip after all! When public transport is available, use it. Sure, you might have to wait a while for the return bus or train ride home, but there's always a local pub or café to chill out and treat yourself in.
Becoming a more sustainable person can be overwhelming but our four tips are easy to put into practice and may even save you money! If that's not a driving factor (along with saving the planet) we don't know what is. From eco-friendly accessories to bigger conscious decisions, we as a world need to change. Here at BUFF® we are welcoming the change with open arms and following our own journey to become more sustainable. Hopefully, we've inspired you to come on the adventure of sustainability as well!